Dr. Jamie Baker is currently an Assistant Principal at Organ Mountain High School in Las Cruces, New Mexico. She is also an adjunct professor for the Department of Agriculture and Extension Education at NMSU. Dr. Baker is a renewed National Board Certified English Teacher and advocate for Career Technical Education programs and strategically addressing the needs of our struggling high school readers.
Prior to rejoining the public education workforce, Dr. Baker served as the Assistant and Acting Director of Secondary Education at NMSU. During that time, she developed research interests and service in the areas of secondary pre-service teacher education, program development and assessment, accreditation, and university-school partnerships and field experiences. She was also a grant writer and program director of Aggie Prep, an alternative teacher certification program for recruiting and retaining high-quality New Mexico Secondary math and science teachers.
Dr. Baker earned a doctoral degree in Curriculum and Instruction from New Mexico State University (2012). She also earned a master's degree in Reading and a bachelor's degree in Elementary Education, also from NMSU. She is a proud Aggie and enjoys every opportunity to serve the needs of teacher education. She would not be where she is today without the values and resources of a land-grant institution. Go Aggies!
View full Baker CV (PDF)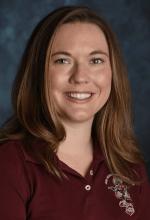 Jamie Baker
Adjunct Faculty
Assistant Principal
Organ Mountain High School
Email: jbaker1@lcps.net