Dr. Shannon Norris-Parish graduated from Texas A&M University in 2020 with a Ph.D. in Agricultural Leadership, Education, and Communications. She also has certificates in Advanced Research Methods and Homeland Security. For her doctoral dissertation, she developed a curricular framework for the U.S. Army Special Operations Command (USASOC) to use when conducting agricultural assessments in Middle Eastern conflict zones. She is very passionate about connecting food security research to homeland defense efforts.
While at Texas A&M, Dr. Norris-Parish was named a Buck Weirus Spirit Award Recipient, the 2020 Friend of the College of Agriculture and Life Sciences, and the 2020 Presidential Award for Student Advocacy. She received her B.S. from New Mexico State University in Agricultural and Extension Education in 2013, and her M.S. from Oklahoma State University in Agricultural Communications in 2015.
Dr. Norris-Parish also worked for two years as the recruiting and retention coordinator in NMSU's College of Agricultural, Consumer, and Environmental Sciences' academic programs. In this role, Dr. Norris-Parish advised or co-advised the ACES Ambassadors, ACES Mentors, and ACES Council Officers. These experiences sparked a fire for student development and student affairs that she hopes to continue in her future agricultural communications classrooms.
Dr. Norris-Parish grew up on a beef cattle ranch in Cliff, New Mexico, and she was active in 4-H and FFA. She served as the New Mexico FFA State Secretary in 2008-09 and as a National FFA Officer as the Western Region Vice President in 2010–11. Dr. Norris-Parish is also a Ziglar certified speaker and trainer.
View full Norris-Parish CV (PDF)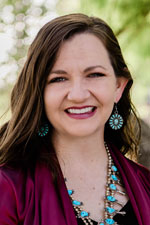 Shannon Norris-Parish
Assistant Professor
Office Location: GTH 105
Phone: 575-646-1130
Email: norriss@nmsu.edu