Dawn M. VanLeeuwen began her NMSU career in 1993 as an assistant professor. She is currently a professor in the Department of Economics and International Business and has a joint appointment with the Agricultural Experiment Station. She teaches introductory and applied statistics and serves on numerous graduate student committees.
While her research has led to theoretical and applied statistical papers and presentations, her current research and creative activities focus on her many consulting collaborations. These collaborations have resulted in many journal articles, papers and presentations in a wide range of disciplines, and service on the aforementioned graduate student committees. Several papers arising from these collaborations have received national recognition, including the E. B. Knight Journal Award (NACTA), two Emerald Management Review Citations of Excellence for Practical Implications, and an Emerald Management Review Citation of Excellence for Readability.
Her service to the university community has included a term on faculty senate, a term on the graduate council, service on the college survey review committee, a term on the compensation committee, membership on the HRTM departmental promotion and tenure committee, membership on the AXED promotion and tenure committee, and several terms on the ACES all-college conference planning committee. She also served several terms as treasurer, and then a term as president of Gamma Sigma Delta, the Honor Society of Agriculture. Her service to the College of Agriculture, Consumer and Environmental Sciences was recognized in 2006 with the college's Distinguished Service Award.
View full VanLeeuwen CV (PDF)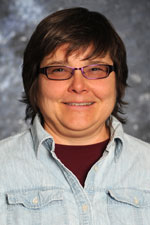 Dawn VannLeeuwen
Professor
Office Location: GTH 103
Phone: 575-646-5960
Email: vanleeuw@nmsu.edu