Dr. LaJoy R. Spears is a program development and evaluation specialist with the Cooperative Extension Service at New Mexico State University. Dr. Spears works in collaboration and partnership across NMSU Cooperative Extension Service to assess community and statewide needs.
Dr. Spears is uniquely positioned to guide program development while building evaluation capacity within NMSU Cooperative Extension Service and across the land grant system. After attending two land grant universities, she gained many years of professional experience and service at 1862 and 1890 land grant universities, tribal colleges, and now at NMSU, a Hispanic-serving institution. Her experience includes curriculum development, program design, implementation, outcome evaluation, and adult education. While at NMSU she is focused on building evaluation capacity of Extension educators and increasing their ability to document program impacts that meet the needs of local, state and federal stakeholders.
Dr. Spears earned her doctoral degree in agricultural education with an emphasis on curriculum and instructional technology from Iowa State University. She received her master's degree in agricultural and extension education and a bachelor's degree in agricultural economics and business from the University of Tennessee.
She loves music (classical, jazz, opera), enjoys being outdoors and likes adventurous activities, including hiking, camping, and international travel.
View full Spears CV (PDF)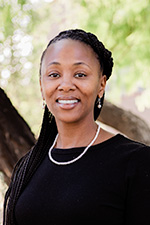 LaJoy Spears
Assistant Professor
Program Development and Evaluation Specialist
Office Location: GTH 111
Phone: (575) 646-1134
Email: lrspears@nmsu.edu